Ada satu lagi fenomena yang hadir dalam perkembangan dunia crypto. Walaupun cryptocurrency sudah menjadi umum sebagai alat bertransaksi bagi beberapa kalangan, tapi masih banyak masyarakat yang memiliki pandangan lain. Ada anggapan yang lebih memilih crypto sebagai barang koleksi daripada menjadi mata uang. Anggapan tersebut berkembang menjadi pasar tersendiri yang kini dikenal sebagai crypto-collectible.
Dalam pengembangannya bersamaan dengan cryptogame, keberadaan crypto-collectible menjadi lebih menarik sebagai investasi. Alih-alih hanya berupa angka yang merepresentasikan jumlah koin atau token yang dimiliki, crypto-collectible hadir dengan manifestasi visual. Beberapa pengembang menawarkan crypto-collectible berupa karakter unik, kartu bergambar, atau seni visual yang dapat dinikmati secara digital (bukan fisik).
Konsepnya hampir sama dengan barang koleksi konvensional dimana barang yang memiliki jumlah terbatas namun diminati oleh banyak kolektor maka akan menghasilkan harga yang tinggi. Namun, kelebihan crypto-collectible adalah hakikatnya sebagai token digital yang berada dalam jaringan blockchain membuat rekam jejak kepemilikannya menjadi transparan dan aman dari tindakan plagiarisme atau pemalsuan yang kerap terjadi pada barang koleksi.
There is one more phenomenon that is present in the development of the crypto world. Although cryptocurrency has become a common tool for transactions for some circles, there are still many people who have other views. There is an assumption that crypto prefers as a collection item rather than a currency. This assumption developed into a separate market which is now known as crypto-collectible.

In its development together with cryptogame, the existence of crypto-collectible is becoming more attractive as an investment. Instead of just numbers that represent the number of coins or tokens they have, crypto-collectible comes with visual manifestations. Some developers offer crypto-collectible in the form of unique characters, picture cards, or visual arts that can be enjoyed digitally (not physically).

The concept is almost the same as conventional collection items where goods that have a limited amount but are in demand by many collectors will produce high prices. However, the advantages of crypto-collectible are essentially as digital tokens that are on the blockchain network making the ownership record become transparent and safe from acts of plagiarism or counterfeiting that often occur in collections.
Saat ini, ada banyak sekali crypto-collectible yang dapat dipilih sebagai investasi. Beberapa di antaranya memiliki konsep yang terpadu dengan cryptogame. Hal ini memungkinkan crypto-collectible memiliki nilai bukan sekadar barang koleksi tapi juga item yang berguna dalam game.
Satu yang paling menarik di pasar crypto-collectible adalah Hero pada game ETH.TOWN. Beberapa crypto-collectible dikembangkan dalam jaringan blockchain Ethereum berupa token ERC721, begitu halnya Hero pada ETH.TOWN. ERC721 adalah jenis token dengan kode tetap atau tidak dapat ditukar, bersifat unik, tapi kepemilikan propertinya dicatat di blockchain, dan Anda hanya dapat mentransfer dan menukarnya di platform yang mendukung standarisasinya.
Di ETH.TOWN, Hero dapat menjadi barang koleksi yang dapat dilelang kepemilikannya dan harganya ditentukan dari seberapa besar minat yang datang dari para kolektor. Namun, di samping itu, Hero adalah kaki tangan kita untuk melakukan banyak aktivitas semisal trading (jual/beli) lantai di Crypto Tower, bertarung di Titan Arena, atau bertualang untuk mengumpulkan Gem. Jadi, Anda tetap mendapatkan keuntungan dengan menyimpannya atau menjualnya.
Today, there are many crypto-collectibles that can be chosen as investments. Some of them have integrated concepts with cryptogame. This allows crypto-collectible to have value not just collections but also useful items in the game.

One of the most interesting in the crypto-collectible market is the Hero in the ETH.TOWN game. Some crypto-collectibles are developed in the Ethereum blockchain network in the form of ERC721 tokens, as well as Hero on ETH. TOWN. ERC721 is a type of token with a fixed code or non-fungible, unique, but ownership of the property is recorded on the blockchain, and you can only transfer and exchange it on a platform that supports its standardization.

In ETH.TOWN, Hero can be a collection item that can be auctioned for ownership and the price is determined by how much interest comes from the collectors. However, in addition, Hero is our accomplice to do many activities such as trading (selling / buying) floors at the Crypto Tower, fighting on the Titan Arena, or venturing to collect Gem. So, you still get a profit by saving it or selling it.
Hero with Unique Genes
Beberapa Hero di ETH.TOWN diciptakan dengan gen yang unik. Hal ini menambah daya tarik bagi para kolektor untuk mencari dan mendapatkan Hero yang memiliki keunikan lebih dari Hero lainnya. Berikut adalah penjelasan gen unik yang dapat dimiliki oleh beberapa Hero.
Some Heroes in ETH.TOWN are created with unique genes. This adds to the attraction for collectors to find and get heroes who are more unique than other heroes. The following is an explanation of unique genes that can be owned by some heroes.
Dice gene — gen yang sangat langka yang memberikan hak kepada pemiliknya untuk mendapatkan bagian dari keuntungan dari mini-game dadu di ETH.TOWN.
A very rare gene that entitles the hero owner for a share of the profit from the ETH.TOWN Dice game.
Instant breed — seperti namanya, membuat Hero tersebut berkembang biak secara instan tanpa harus memakan waktu dalam prosesnya. Umumnya, proses perkembangbiakan Hero mengharuskan sepasang Hero jantan dan betina untuk digabungkan dan melalui proses yang memakan waktu sesuai dengan ketentuan.
Just what the name implies, make the Hero breeding instantly without having to take time in the process. Generally, the Hero breeding process requires a pair of male and female heroes to be merged and through a time consuming process in accordance with the provisions.
Fast breed — tidak sekeren instant breed, tetapi lebih cepat, dan tercepat jika kedua orang tua (Hero jantan dan betina) memiliki gen ini.
Not as cool as instant breed, but it's fast, and fastest if both parents have it.
Fast cooldown — membuat Hero beristirahat lebih sebentar sebelum melaksanakan aktivitas berikutnya.
Have the hero rest less before tasks.
Twins likely — kesempatan tinggi untuk memiliki anak kembar. Dijamin kembar jika kedua orang tua memiliki gen ini. Ada juga kesempatan (yang biasanya kecil) untuk mendapatkan kembar tiga.
High chance to have twins. Guaranteed twins if both parents have it. Increased chance (which is normally tiny) of triplets.
Born to invest —Hero memiliki daya investor tambahan (hasil yang lebih tinggi dari penawaran properti).
Additional investor power (higher returns from property deals).
Tough — mengurangi cedera yang diterima dalam permainan tarung yang melibatkan memukul orang lain dengan barang-barang.
Reduced damage received in games involving hitting others with stuff.
More crits — persis seperti namanya, kesempatan lebih tinggi untuk menghasilkan kritikal ketika memukul orang lain dengan barang-barang!
Exactly what the name implies, higher chance to crit when hitting others with stuff!
Hero Breeding (Merging)
Sama seperti dalam kehidupan nyata, para Hero dapat berkembangbiak dan menciptakan keturunan yang lebih baik dari yang orangtuanya. Di ETH.TOWN, proses perkembangbiakan membutuhkan satu Hero jantan dan satu Hero betina yang berada dalam level yang sama. Secara teknik, perkembangbiakan ini dilakukan dengan menggabungkan sepasang Hero dalam proses yang memakan sejumlah waktu. Dari proses penggabungan ini akan menghasilkan Hero baru yang akan memiliki campuran gen, statistik, dan penampilan yang mirip dengan orangtuanya.
Namun, setelah proses penggabungkan selesai, Hero orangtua akan pensiun dan meninggalkan kota. Hal ini berarti, proses penggabungan Hero bukan bermaksud menambah jumlah kepemilikan Hero tapi mengganti dua buah Hero menjadi satu Hero dengan level yang lebih tinggi satu tingkat. Anda dapat mulai memiliki Hero dari level-0 dan meningkatkannya hingga level-15. Semakin tinggi level sebuah Hero maka memiliki kemungkinan yang tinggi untuk menarik minat para kolektor dalam pelelangan dan menaikkan harga jualnya.
Just like in real life, the Heroes can breed and create better offspring than their parents. In ETH.TOWN, the breeding process requires one male Hero and one female Hero who is in the same level. Technically, this breeding is done by combining a pair of heroes in a process that takes a certain amount of time. From this merging process will produce a new Hero that will have a mixture of genes, statistics, and appearance that is similar to his parents.

However, after the merging process is complete, the parent will retire and leave the city. This means, the process of merging Hero is not intended to increase the number of Hero holdings but to replace two heroes into one Hero with a higher level of one level. You can start having a Hero from level 0 and increase it to level-15. The higher the level of a Hero, the higher the possibility to attract the interest of collectors in the auction and increase the selling price.
Beikut adalah perhitungan jumlah Hero yang dibutuhkan untuk meningkatkan level Hero, seperti yang ditunjukkan pada tabel berikut:
Following is the calculation of the number of heroes needed to increase the Hero level, as shown in the following table: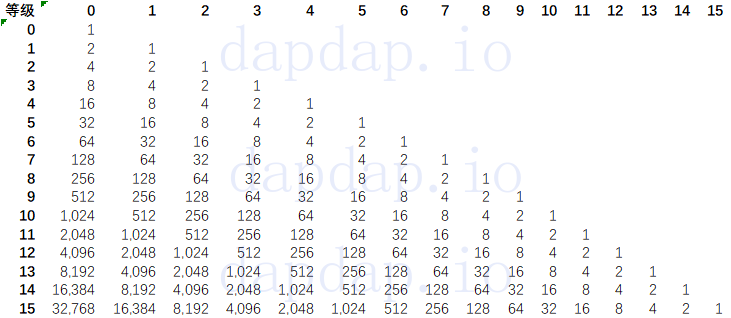 Dengan kata lain, jika Anda meningkatkan dari level 0 ke level 15, Anda akan membutuhkan total 32.000 buah Hero level 0. Nilai Hero level-6 sama dengan 64 buah Hero level-0, dan nilai Hero level-9 sama dengan 512 buah Hero level-0.
In other words, if you increase from level 0 to level 15, you will need a total of 32,000 Hero level 0. Hero level-6 values are the same as 64 Hero level-0, and Hero level-9 equals 512 Hero level -0.
Hero Fights at the Titans Arena
Hal yang paling menarik di ETH.TOWN sejak masa beta, setiap Hero dapat bertarung di Titan Arena dengan Hero lainnya. Namun, jangan berpikir terlalu jauh dengan membayangkan game tarung yang mengandalkan kecekatan untuk menekan kombinasi tombol untuk menghasilkan jurus pukulan atau tendangan. ETH.TOWN adalah idle game yang hanya memungkinkan pemain untuk memilih aktivitas, mengkonfirmasinya, kemudian menunggu hasilnya. Pertarungan di Titan Arena berbasis pada permainan gunting batu-kertas yang sederhana. Ketika peluang dan cedera yang dihasilkan suatu pukulan dihitung, game ini memperhitungkan statistik Hero (termasuk efek dari peralatan) dan gen (crits, toughness) yang dimilikinya. Anda hanya mengirim seorang Hero ke arena, mereka menemukan lawan yang cocok, dan mereka bertarung! Jika Hero Anda menang maka Anda mendapatkan XP dan Gem. XP akan berguna sebagai poin pengurangan waktu ketika proses perkembangbiakan Hero, dan Gem berguna untuk membeli perlengkapan Hero semisal senjata atau kostum, atau Anda dapat memasukkan Gem ke dalam Gem Pot untuk mendapatkan ETH.
Saat ini, harga crypto memang masih belum begitu menggairahkan namun perlahan kian membaik. Sambil menunggu tren kembali meroket sebaiknya Anda mulai mengkoleksi Hero di ETH.TOWN sebagai crypto-collectible terbaik.
The most interesting thing in ETH.TOWN since the beta period, each Hero can fight on Titan Arena with other heroes. However, don't think too far by imagining fighting games that rely on dexterity to press the key combination to produce a punch or kick. ETH.TOWN is an idle game that only allows players to select activities, confirm them, then wait for the results. The battle at Titan Arena is based on a simple rock-paper scissors game. When the chance and injury resulting from a punch are counted, this game takes into account Hero statistics (including the effects of the equipment) and the genes (crits, toughness) it has. You only send a Hero to the arena, they find suitable opponents, and they fight! If your Hero wins then you get XP and Gem. XP will be useful as a time reduction point when the Hero breeding process, and Gem is useful for buying Hero equipment such as weapons or costumes, or you can enter Gem into the Gem Pot to get an ETH.

At present, crypto prices are still not so exciting but are slowly improving. While waiting for the trend to skyrocket again, you should start collecting Hero in ETH.TOWN as the best crypto-collectible.
Related Links
Official website: https://ETH.TOWN
Twitter: https://twitter.com/eth_town
Facebook: https://facebook.com/eth.town
Discord: https://discord.gg/z5GTEBs
Telegram: https://t.me/Ethertown
Instagram: http://instagram.com/eth.town
BitcoinTalk: https://bitcointalk.org/index.php?topic=3062760