Jika Anda adalah penggemar cryptogame, tentunya Anda tidak akan asing lagi dengan istilah token ERC20. Sama halnya dalam game konvensional, dalam cryptogame pun biasanya terdapat token lokal sebagai alat transaksi dalam game tersebut. Perbedaannya dengan game konvensional, token dalam cryptogame merupakan cryptocurrency yang juga memiliki kemampuan untuk ditukar dengan koin atau token lainnya yang ada di pasar.
Namun, biasanya token dalam cryptogame dibuat sebagai token yang "setengah jadi", yang maksudnya belum memiliki jaringan server blockchain sendiri. Untuk dapat membangun jaringan server blockchain sendiri tentunya membutuhkan dana yang sangat besar, sehingga beberapa ICO termasuk cryptogame memilih untuk menumpang pada jaringan server blockchain yang sudah kuat seperti Ethereum dengan memanfaatkan fitur smart contract. Token semacam ini disebut ERC20 pada jaringan server blockchain Ethereum.
If you are a fan of cryptogame, of course you will know the ERC20 token term. Just like in conventional games, in cryptogame there is usually a local token as a tool for transactions in the game. The difference with conventional games, tokens in cryptogame are cryptocurrency which also has the ability to be exchanged with coins or other tokens on the market.

However, usually tokens in cryptogame are made as tokens that are "semi-finished", which means they don't have their own blockchain server network. To be able to build a blockchain server network itself would require huge funds, so some ICOs including cryptogames choose to ride on a strong blockchain server network such as Ethereum by utilizing the smart contract feature. This kind of token is called ERC20 on the Ethereum blockchain server network.
Ada banyak sekali token ERC20 yang diperdagangkan di pasar saat ini seiring dengan maraknya ICO dan cryptogame. Sebagai bahan pertimbangan Anda, token ERC20 sebaiknya memiliki likuiditas yang tinggi untuk dikonversi menjadi token atau koin lainnya terutama menjadi ETH. Di samping itu, token pada cryptogame lebih disarankan karena memiliki nilai fungsi yang jelas sebagai alat transaksi pada game tersebut. Untuk menyimpan token ERC20, Anda hanya membutuhkan dompet Ethereum karena dompet untuk token ERC20 sudah menjadi satu dengan jaringan Ethereum.
Satu token ERC20 yang ingin saya sarankan adalah ETIT singkatan dari Ether Town Investor Token, yaitu token lokal pada game ETH.TOWN.
There are a lot of ERC20 tokens that are traded on the market today along with the rise of ICOs and cryptogames. As your consideration, ERC20 tokens should have high liquidity to be converted into tokens or other coins, especially into ETH. In addition, the token in cryptogame is preferred because it has a clear function value as a transaction tool in the game. To save ERC20 tokens, you only need an Ethereum wallet because the wallet for the ERC20 token has become one with the Ethereum network.

One ERC20 token that I want to recommend is ETIT, the word abbreviation for Ether Town Investor Token, which is a local token in the ETH.TOWN game.
Secara teknis, ETIT adalah mata uang di ETH.TOWN, dan merupakan token ERC20 yang kompatibel. Token ini tidak pernah dapat dibeli langsung dari game atau penyelenggara game, dan hanya diberikan untuk aktivitas tertentu dalam game, dan sebagai bonus tambahan untuk membeli item dalam game selama pra-penjualan. Namun para pemain bebas bertukar token satu sama lain, misalnya dengan menukarnya di EtherDelta.
Dalam permainan, setiap pemegang ETIT akan secara otomatis mendapatkan bagian dari keuntungan yang dihasilkan dari semua aktivitas peserta game. Misalnya, jika perdagangan aset berjalan, bagian terbesar dari jumlah ETH akan masuk ke pembuat transaksi sebagai laba. Bagian kedua diakuisasikan kepada investor token, dan bagian ketiga, bagian terkecil pergi untuk para pengembang permainan. Di bawah ini adalah contoh perolehan yang didapatkan oleh salah satu pemain di ETH.TOWN.
Technically, ETIT is a currency in ETH.TOWN, and is a compatible ERC20 token. This token can never be purchased directly from the game or game organizer, and is only given for certain activities in the game, and as an added bonus for buying in-game items during pre-sale. But players are free to exchange tokens with each other, for example by exchanging it on EtherDelta.

In the game, each ETIT holder will automatically get a share of the profits generated from all game participant activities. For example, if trading assets is running, the largest portion of the ETH will enter the deal maker as profit. The second part is acquired by the investor token, and the third part, the smallest part goes for game developers. Below is an example of the acquisition obtained by one of the players in ETH.TOWN.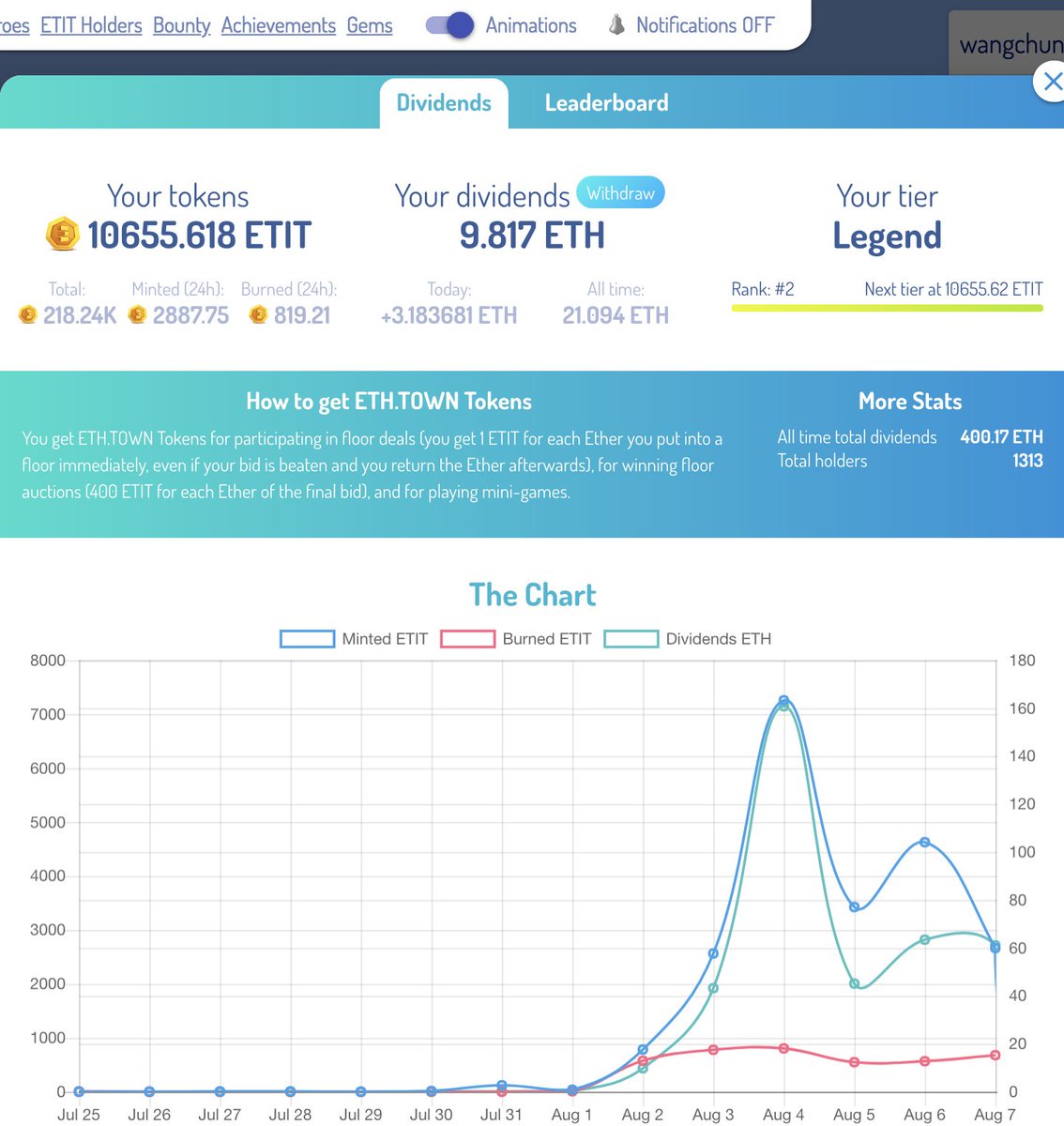 Di antara pemegang ETIT, pembagian ETH didistribusikan lebih lanjut dalam persentase yang berbeda dalam tingkatan sesuai dengan pangsa token yang mereka pegang. Anda kemudian dapat menarik ETH yang Anda hasilkan dari platform secara langsung. Anda dapat melihat tingkatan pemegang ETIT dalam spanduk utama berikut ini.
Among ETIT holders, the distribution of ETH is further distributed in different percentages at levels according to the share of tokens they hold. You can then draw the ETH that you generate from the platform directly. You can see the level of ETIT holders in the following main banners.
Di lain hal, ETIT adalah mata uang yang dapat Anda gunakan untuk beli barang-barang keren di dalam game. Misalnya, untuk membeli Hero baru atau perlengkapan seperti senjata dan kostum, Anda harus membayar mengunakan ETIT. Kebanyakan mini-game juga didukung oleh token ini.
On the other hand, ETIT is a currency that you can use to buy cool items in the game. For example, to buy a new Hero or equipment such as weapons and costumes, you have to pay using ETIT. Most mini-games are also supported by this token.
What are you waiting for, if you have an ETH you should come into play and make a profit in ETH.TOWN!
Related Links
Official website: https://ETH.TOWN
Twitter: https://twitter.com/eth_town
Facebook: https://facebook.com/eth.town
Discord: https://discord.gg/z5GTEBs
Telegram: https://t.me/Ethertown
Instagram: http://instagram.com/eth.town
BitcoinTalk: https://bitcointalk.org/index.php?topic=3062760